What is Vidulum?
Vidulum (VDL) Joins DEFI - Get VDL on Osmosis Dex
Vidulum has started 2022 with a bang as VDL is now available on the Osmosis Dex and has joined the Cosmos ecosystem!
That means that VDL is available to buy or swap at https://app.osmosis.zone/ in self custodial fashion! You can also contribute $VDL and $OSMO to the liquidity pool and earn swap fees.
In the fall of 2021, Vidulum announced that there would be a chain swap from proof of work to delegated proof of stake. Executing this transition has opened many doors for the Vidulum Community. You can learn more about the details of the blockchain swap to dpos consensus here.
VDL Tokenomics
At the time of writing this article the tokenomics for VDL are as follows:
Max Supply = ∞
Total / Circulating Supply = ~17M VDL
Development Wallet / VRS = ~2.8M VDL
The development wallet for VDL was originally generated during the genesis block of the proof of work chain and was 2 million units of VDL. During chain swap, this fund was carried over.
The Vidulum Development Wallet is specially earmarked for development and project growth and follows a release schedule.
The Vidulum Reward System (VRS) is used to power the in-app V-Staking System, which is designed to reward holders of certain assets with VDL. In the coming months there will be changes to the structure of the Vidulum Reward System to decentralize the functionality and make it more accessible to all projects listed on Vidulum App.
For the most up to date and accurate information about the total and circulating supply please visit the Vidulum Blockchain Explorer. The data is also available at Coin Gecko.
Click here and learn more about the Vidulum Blockchain.
How to Buy VDL
VDL is available on Osmosis! Check out this quick video guide to learn how to get access to the Osmosis Dex, buy VDL, and add liquidity to the VDL / OSMOS pool where you can earn swap fees.


VDL is available directly in Vidulum App as a Bitcoin Pair.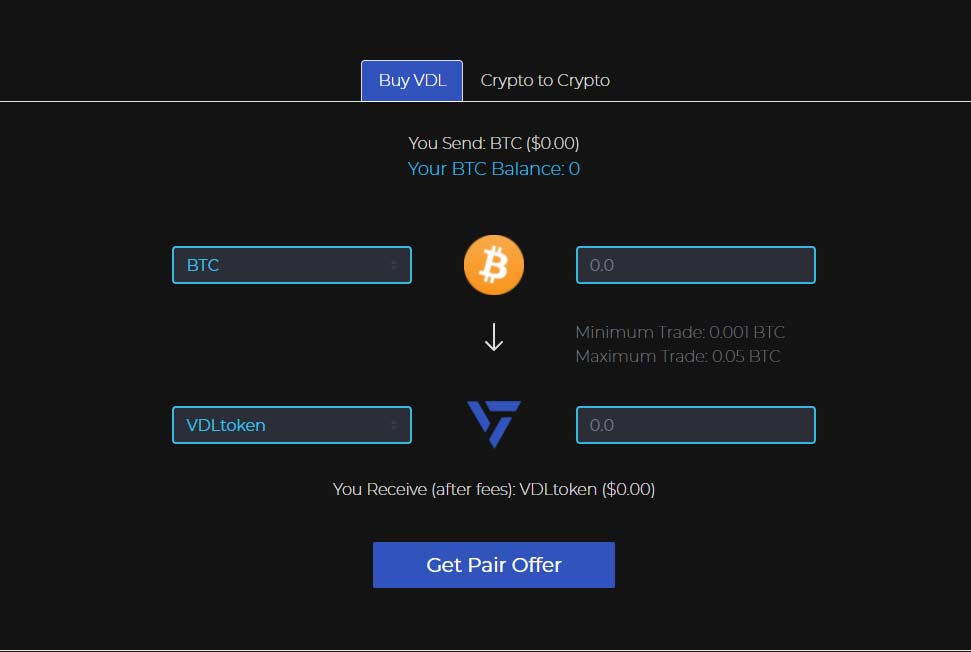 VDL can also be found onSTEX Exchange.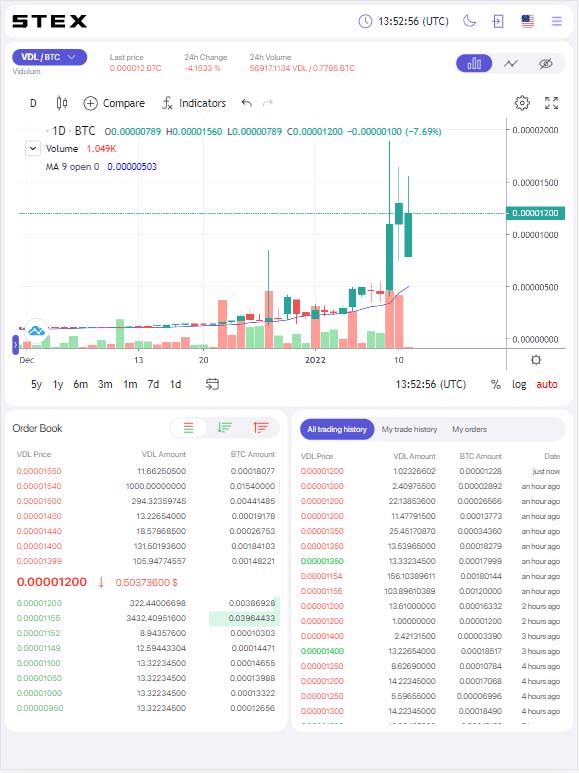 How to Earn Crypto by Staking VDL
Vidulum holders can earn more VDL by delegating (staking) their coins with the network validators, and this can all be done directly in Vidulum App.

Check out this quick video to learn more about delegating, redelegating, and undelegating in app to earn VDL crypto by participating in network consensus.
If you are asking, "but how much VDL can I earn?" Don't fret - we've built a calculator right into the app under the proof of stake page! Simply ensure the data is there and input what you would like to stake to get an estimate.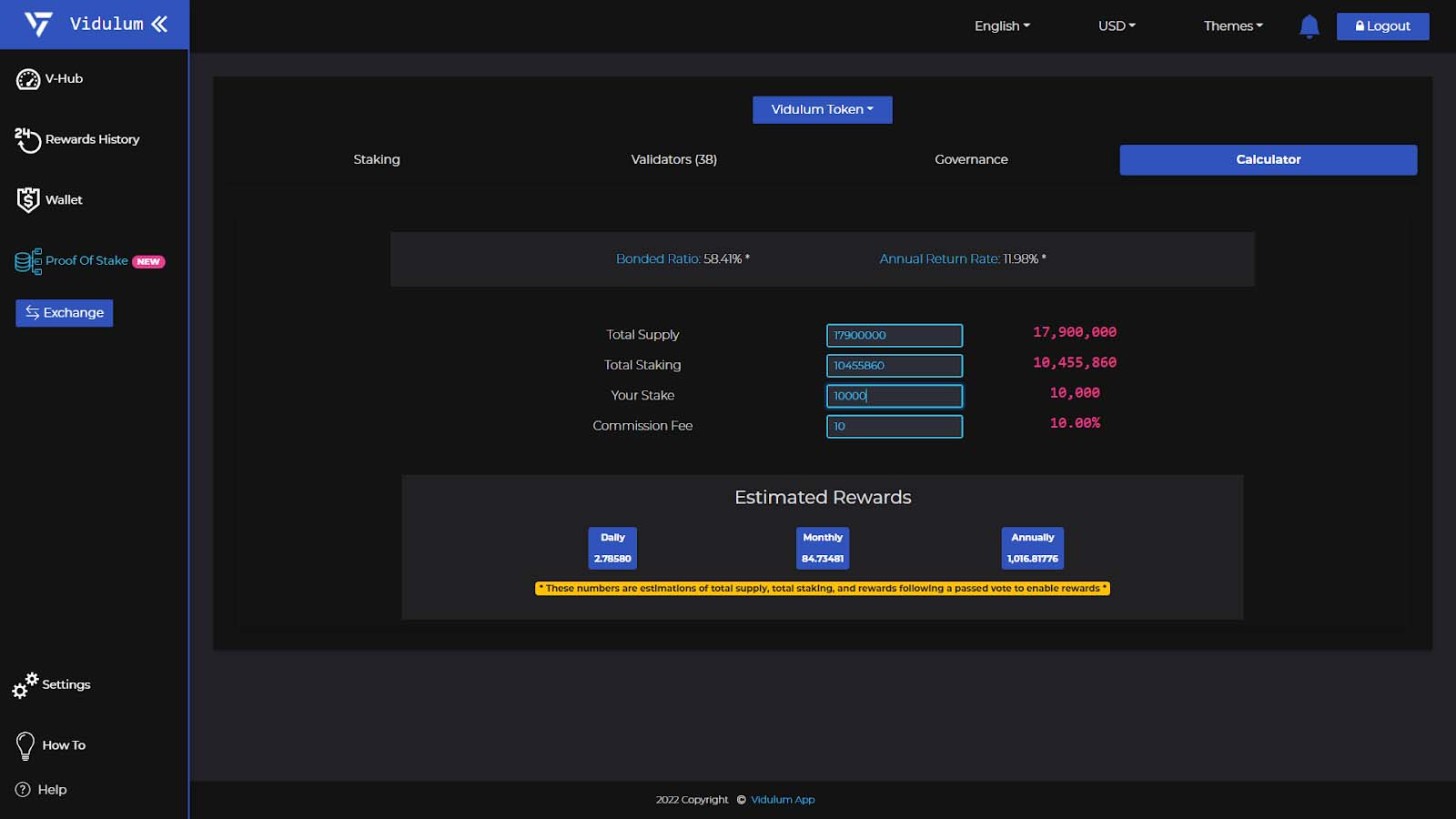 About Vidulum

Free to use and access on any device, Vidulum App is a premiere self custody crypto wallet and platform. With support for thousands of cryptocurrencies and tokens, you can take your cryptocurrency with you and access your wallets whenever suits you best.

Built to deliver online accessibility of self custody crypto, you can access your Vidulum Wallet from any modern browser, or by downloading the app for iOS and Android devices. The Vidulum team is focused on building an all-in-one platform where users can store, earn, exchange, and monitor their crypto from anywhere, 24/7.

The wallet features a native cryptocurrency, VDL which can be earned by participating in consensus or through the V-Staking System. VDL is a delegated proof of stake mainnet blockchain. Vidulum App features built-in support for participating in consensus and that means users can stake VDL with their preferred validator(s) to collect rewards and contribute to securing the network directly in app.

As a multi-asset, self custody web wallet, also known as a light wallet, Vidulum's users are in control of their private keys. When creating a wallet on Vidulum App you are encouraged to ensure that the username, password, and pin are complex and robust (please don't use Passw0rd123). As Vidulum is focused on delivering self custody services, the team cannot recover wallet credentials, and that is by design. This makes you, the user, the only person who can access your wallet. That also makes it critical that you do not lose your credentials and are sure to take a backup of your private keys, storing them securely.

Vidulum's team features a diverse group of people who all bring their own unique skills and personalities to the community. Each member has been actively involved in the broader crypto space, but have come together to build solutions that address the functionality and accessibility gaps most users and new adopters face.

So, we've got just one question for you. What are you waiting for? Take control of your crypto.
Have questions, join us in the Vidulum Discord and talk the team and participate in the community.
---